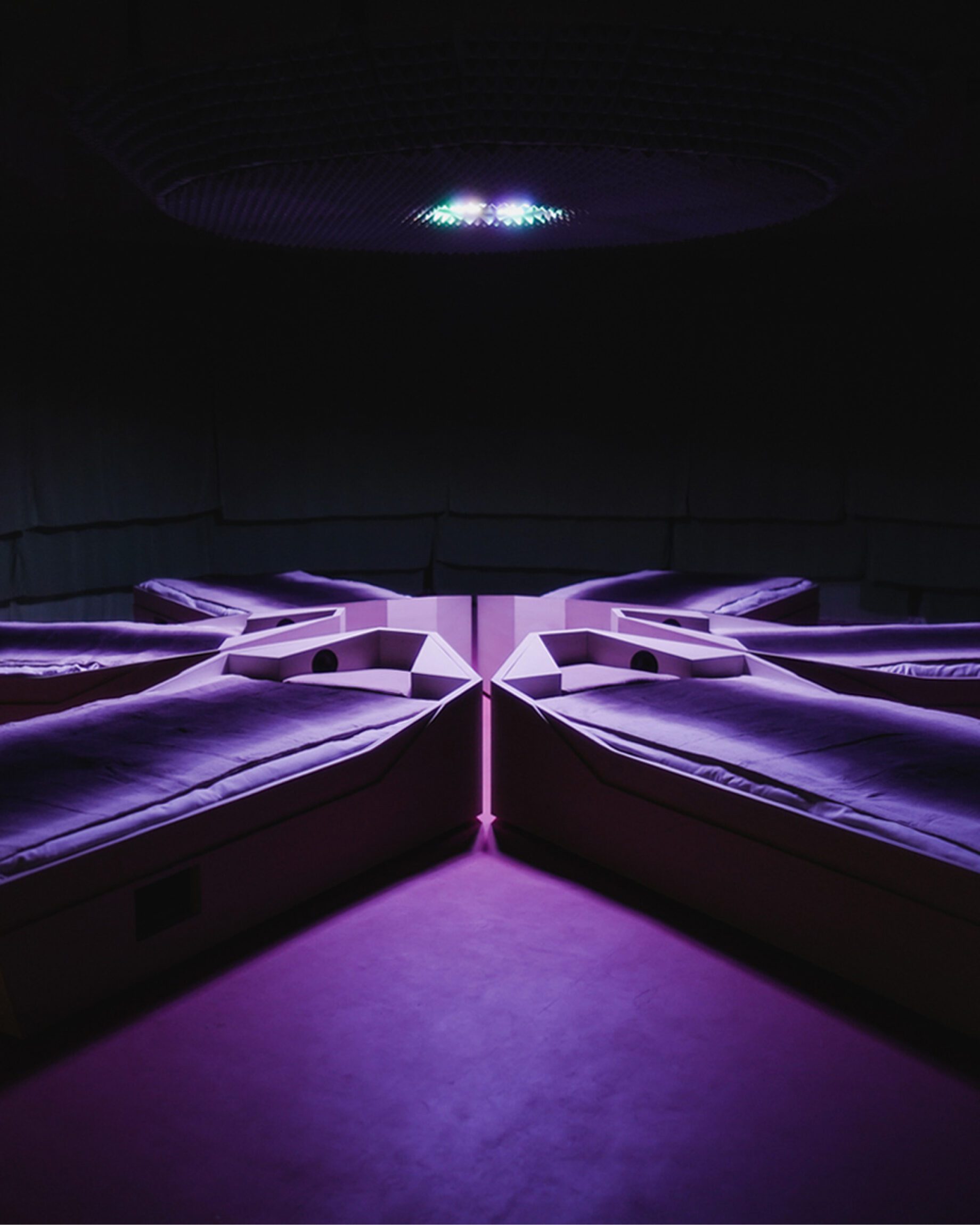 The rise of transformational retreats
Last updated: November 29, 2022
Transformational and psychedelic retreats are trending, promising to profoundly change your life for the better. One writer signs up, and investigates
There are times in everyone's lives when something radical happens – you lose someone you love, you hit a milestone age, you quit your job – and you realise that you need a new direction. Answering this call to action is an emerging trend for 'transformational' travel – that is, travel that profoundly changes you (ideally for the better).
At its roots is a deep-seated desire for a greater understanding of the Self and the meaning of life – topics that humans have been grappling with for millennia, and have often manifested themselves in the form of spiritual journeys or religious pilgrimages. (Think of the hippies who travelled to India to seek enlightenment, for example.)
Today, people are embracing a whole mashup of new age wellness practices, psychotherapy and extreme physical challenges, which are now giving rise to specialist 'transformation retreats' that promise to upgrade you in some way. Having recently turned 40, I have been thinking a lot about my own strategy for the next ten years and how to reformulate myself as a new and improved 'mid-lifer', mother and entrepreneur. With this in mind, I signed up for what is probably the most exclusive and extraordinary transformational retreat on Earth – led by trailblazing self-made millionaire, humanitarian and philanthropist Britnie Turner.
The Aerial BVI is an ultra-luxury example of a new breed of retreats that promise to recalibrate and rewire people. Located on a private island in the British Virgin Islands of the Caribbean (not far from Richard Branson's Necker and Moskito islands), Aerial BVI made its debuted in spring of 2021. It is Turner's home – she bought the island just before hurricanes Irma and Maria hit in 2017, devastating the clifftop property she'd been renovating. Her own story of the transformation, of both the island and herself as an individual, is central to her teachings at the retreat, and provides proof of her secrets to success.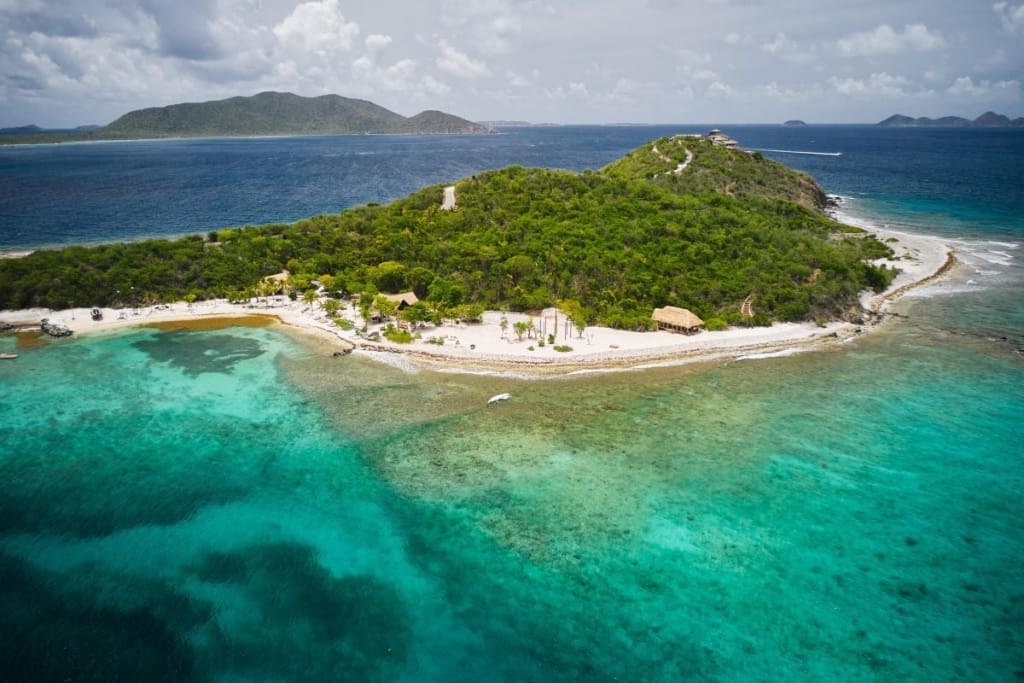 Just over a decade ago, Turner was living in her car; now she is on her way to becoming a billionaire. Not only that but she is happily married, has the body of an athlete and personally funds (and takes part in) humanitarian missions to places such as Ukraine and Haiti that have been hit by war and natural disasters. The retreat she has created has been designed to help other people identify their life's purpose, become 'elevated' (if not enlightened), and ultimately make the world a better place. I signed up for her annual 'Abundance Summit', which focuses on wealth generation and using money as a force for good. Other five-day summits include 'Love', 'Strength' and 'Presence', which is conducted in silence. It is not cheap – each one costs 10,000 USD, but there is also the option to pay in instalments.
From a personal point of view, I found my four nights at the Aerial BVI felt like four weeks. It was a very intense experience spending almost every waking minute with a large group of strangers who were invited to share their unique backstories and reasons for being there over the course of the stay. There were hugs, tears and dancing. Mornings began with yoga on the beach and 'intention setting', or time with therapy ponies, horses and zebras at the island's very own Redemption Ranch. Throughout the day there were talks on everything from real-estate investing to converting 'limiting beliefs' to 'limitless beliefs'. In the evenings there were vegetarian banquets where we had to dress in clothes that reflected a different level of financial success, and then share our key wins and takeaways from the day. There was also a strong Christian element that involved praying together before meals, which was challenging for me as an atheist, but the highly utopian setting made it feel more like a reality TV show than Jesus camp. Since leaving I have made a concerted effort to focus more on 'thinking big', on generating money and being kinder to people (I recently bought a homeless man a sleeping bag).
For those looking for a transformational break, Queen of Retreats does a great job of aggregating retreats of all types from all over the world, which are grouped according to themes such as 'grow', 'learn', 'connect' and, of course, 'transformation'. Some might be led by a life coach or therapist, while others might have a more creative, dietary or spiritual leaning. Examples include Resurface Retreats for surf therapy in Morocco; radical sabbaticals via Advivium Journeys in the UK; physical overhauls at the Ranch Italy; and couples' weekenders in England with Y42 Retreats.
John O'Ceallaigh, journalist and founder of luxury travel consultancy LUTE, recently spent time at the Desa Potato Head resort in Bali, which has launched a new wellness experience called the Sanctuary. "In launching the Sanctuary, Desa Potato Head has burrowed deeper into the allure of Bali," he says. "The spiritually minded, bohemian types who've long come to this beautiful island have been looking for enlightenment long before Julia Roberts came here on her 'Eat, Pray, Love' voyage of self-discovery."
O'Ceallaigh describes travellers as "typically open-minded, which is just as well when you're asking them to pay for things like 'vibroacoustic audio visual therapy'. Though my own group session of sound therapy was pleasant and gentle rather than transcendental, I was happy to be surrounded by people who were open to new experiences. It piqued my curiosity about the more obscure spiritual encounters that are more deeply embedded in Bali – visiting the Sanctuary felt more like an appetiser for what's on offer elsewhere than a complete main course."
What can we learn from innovators who are setting up transformational retreats? Jenny Graham is founder of Saguaro – a 'leading-edge human performance agency dedicated to helping clients achieve higher levels of consciousness'. Her love affair with transformational retreats has taken her to Thailand, Spain, Ibiza, Arizona, California, Himalayas, Panama, India and Tulum. "I find them a powerful way to help me slow down, process, release, heal, grow, gain clarity, and discover joy, pain and hidden truths," she reflects. Retreats tend to involve everything from juicing, fasting, hiking, trauma release exercises, energy work, feminine embodiment practices and meditation, to psychedelics in the jungle, plant medicine with Mayan elders, ancient wisdom rituals, mindset coaching, ice baths and even sessions with an FBI interrogator.
For Graham, formerly global managing global managing director for Quintessentially Travel, it was always an ambition to host and run her own retreats. "Two years ago I hosted my first Saguaro Retreat and haven't looked back. It gave me the chance to combine the retreat experiences I have had, with my own healing journey remedies, my training from world-renowned coaching and energy experts and my love of travel planning. For me there is no greater feeling than supporting people in their bid to achieve meaningful transformation." Graham will be hosting her next 'Inner World' Retreat in early 2023 at her soon-to-open mountain lodge, Casa Amoros, in Spain.
The use of psychedelic plant medicine as an accelerant for transformation has been rising in popularity, and the array of drugs now being consumed go far beyond magic mushrooms and ayahuasca (typically administered by shamanic tribes in the Amazon jungle). Now consumers are dabbling in everything from San Pedro to Bufo, a potent psychedelic that comes from the venom of the Colorado River toad. Although the legalities of these substances vary from destination to destination, there is increasing scientific evidence of the power of psychedelics to successfully treat psychological conditions such as depression and addiction, suggesting that access to some hallucinogenics will gradually become easier.
Forging a new path in the Okanagan Valley in British Columbia, the Journeymen Collective hosts elite psilocybin retreats at a secretive, highly luxurious location. A reporter for The Times recently signed up for one and disclosed that clients would typically be charged 13,000 GBP for the experience, although programmes are bespoke and can encompass a series of engagements over a number of months. Founders Rob Grover and Gary Logan advise: "Our bespoke journeys range from six weeks to 18 months of combined online and in-person intensive support. We also offer highly personalised intensives that range from three to five full days of highly intentional support for one to four people."
Designed for executives, entrepreneurs and professionals, the Journeymen Collective uses hallucinogenic psilocybin to "expand awareness of universal laws and accelerate their conscious vision for life, love and business into reality." How can psychedelics be transformative? The founder explains: "Our masterfully guided journeys help our international clientele to experience decreased anxiety, depression, grief and clearing of long-held traumas that result in greater joy for life, increased capacity to love and creation or amplification of conscious business."
Although magic mushrooms are technically illegal in Canada (the Journeymen Collective seem to disagree that something growing in the wild should be legislated against), the US state of Oregon has become the first to legalise psilocybin for personal use for those over the age of 21 in 2020. Taking advantage of this, Synthesis Institute is opening a new centre in Oregon next year, as a spin-off site to its two existing retreat venues in the Netherlands. From 2023, the company will be hosting four to five retreats per month at both its locations, with rates from about 6,500 USD. To begin with, potential clients undergo a health screening and 'readiness' assessment. If they are approved, they then partake in a series of preparatory sessions to help alleviate anxiety. Finally, they consume psilocybin truffles (referred to as 'medicine') as a tea, either in a one-on-one or a group ceremonial setting, over a number of days. At the end, guides prepare them to return home with a process called 'integration'.
What is the psychedelic experience like and how are they transformative? Rachel Aidan, CEO of Synthesis Institute, explains: "It's never the same for any one person. Even myself, I couldn't tell you that one trip has been like any other. Folks usually feel the onset after about 15 minutes and the experience can last four to six to eight hours, depending on the dose. People go on visual or sensory journeys, some people get visits from loved ones or ancestors – and some people even have what we describe as 'spiritual surgery'. It feels like someone has come in and worked on their body, resulting in an emotional wound or injury that they have had for a long time feeling less 'present'."
If you yourself decide to invest in a transformation retreat – be prepared that change can be uncomfortable. But whatever the outcome, you will return home with some interesting stories – and possibly even a whole new you.


JOIN US FOR THE JOURNEY
Subscribe to the newsletter
City guides, culture, photography and ideas, with expert analysis on the biggest stories in travel