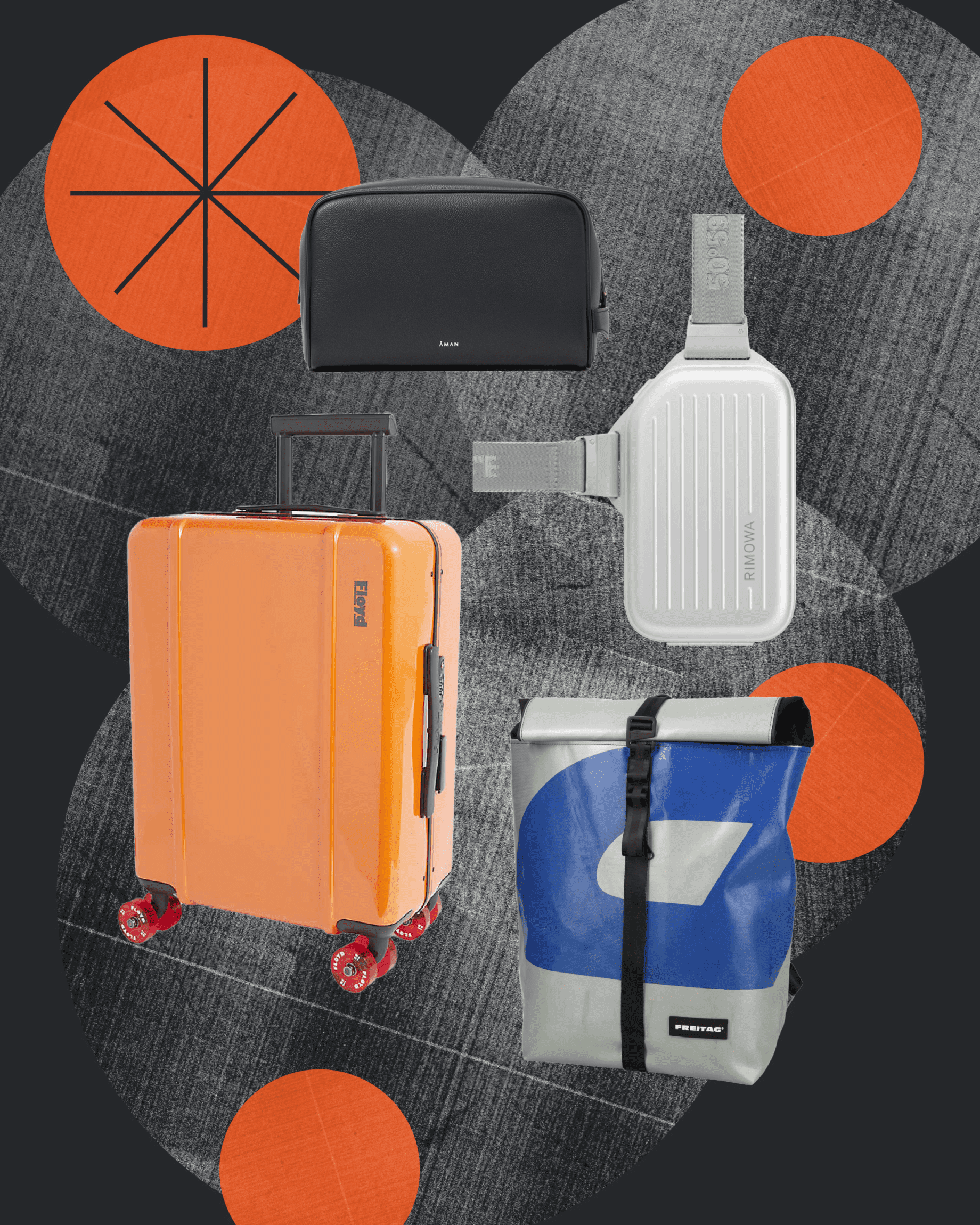 Tasteful travel accessories to gift your intrepid friends
The best backpacks, totes, suitcases, tags and other essential travel accessories to gift this holiday season
If your loved ones are the itinerant type, or even if they're the opposite and need an encouraging push out the door, then perhaps a travel accessory would be just the ticket for them this holiday season. As our city guides attest, ROADBOOK knows a thing or two about travel, so allow us to guide you through the essentials that make moving from place to place that bit more delightful, as part of our festive gift guide.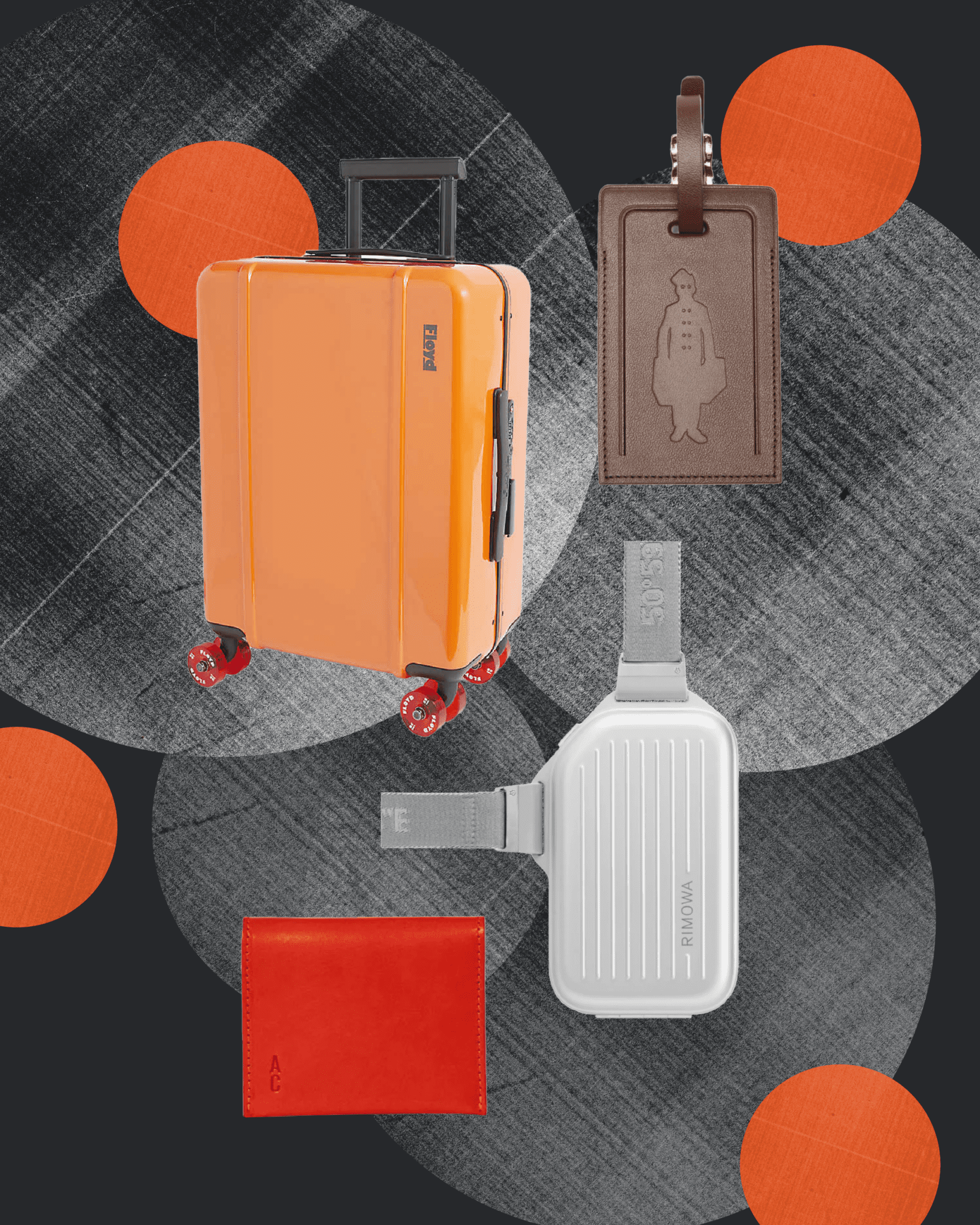 From left: Cabin-size four-wheel shell suitcase by FLOYD, £380, selfridges.com; Brown leather luggage tag by Globe-Trotter x GOLF le FLEUR*, £110, mrporter.com; Aluminium sling clutch by RIMOWA, £835, rimowa.com; Riley leather coin card purse by Ally Capellino, £55 down from £110, allycapellino.com.
Wallet, keys, passport, currency – there's a lot you need to keep your hands on when on the move. Keep it all close to the body with Rimowa's sling clutch bag, which can be worn in multiple ways. The casing is made from the brand's iconic grooved aluminium, and the metal clasp shuts with a satisfying mechanic lock. As for your larger items, you won't miss this bright orange rolling suitcase from Floyd on the luggage carousel, in what must be one of the most jolly colourways available. If that's not individual enough for you, then slap this lovely leather luggage tag from Globe-Trotter on the handle. The tag is handmade in England, and was designed in collaboration with Tyler, The Creator's label, GOLF le FLEUR*. Finally, to keep your bank cards and loose change close and chic at the same time, get this coin card purse from Ally Capellino, made with vegetable-tanned leather in a tomato red hue.
From left: Leather passport cover by Globe-Trotter x GOLF le FLEUR*, £175, matchesfashion.com; leather zip washbag by Āman, £1385, shop.aman.com; Kia leather cross-body bag by Coach Leatherware, £195, selfridges.com; Medium utility tote bag by Haulier, £315, mytheresa.com.
Another leathery luxury delight from Globe-Trotter's collaboration with GOLF le FLEUR* is this passport holder, which opens onto a fetching blue and pink insider cover. On the front cover reads: "For the sun seekers who flew the coup. It's sugar in the air, so keep your eyes wide. Call me if you get lost. Welcome to the disco." From artists to luxury resort brands: Aman have recently broadened into lifestyle and luxury too, and their zip washbag here makes us glad they did. It comes with a solid brass zipper and is made in Italy using French calfskin leather and a suede lining.
New York label Coach Leatherware may be best known for their circular body bag, but this elongated design makes things a bit more practical. There's an adjustable shoulder strap, plenty of space for all your essentials, and it comes in the gold-toned hardware and brand printed leather that Coach have become synonymous with.
Heading to the shops, going out for a day at the beach, or even setting off for a weekend away, a tote bag is the one to pack. This example from Sydney-based label Haulier is made in Portugal from a rugged sage canvas, and strengthened with leather trim and handles. There's internal pockets and even a dust sheet to make it as practical as possible for keeping all your clothes clean.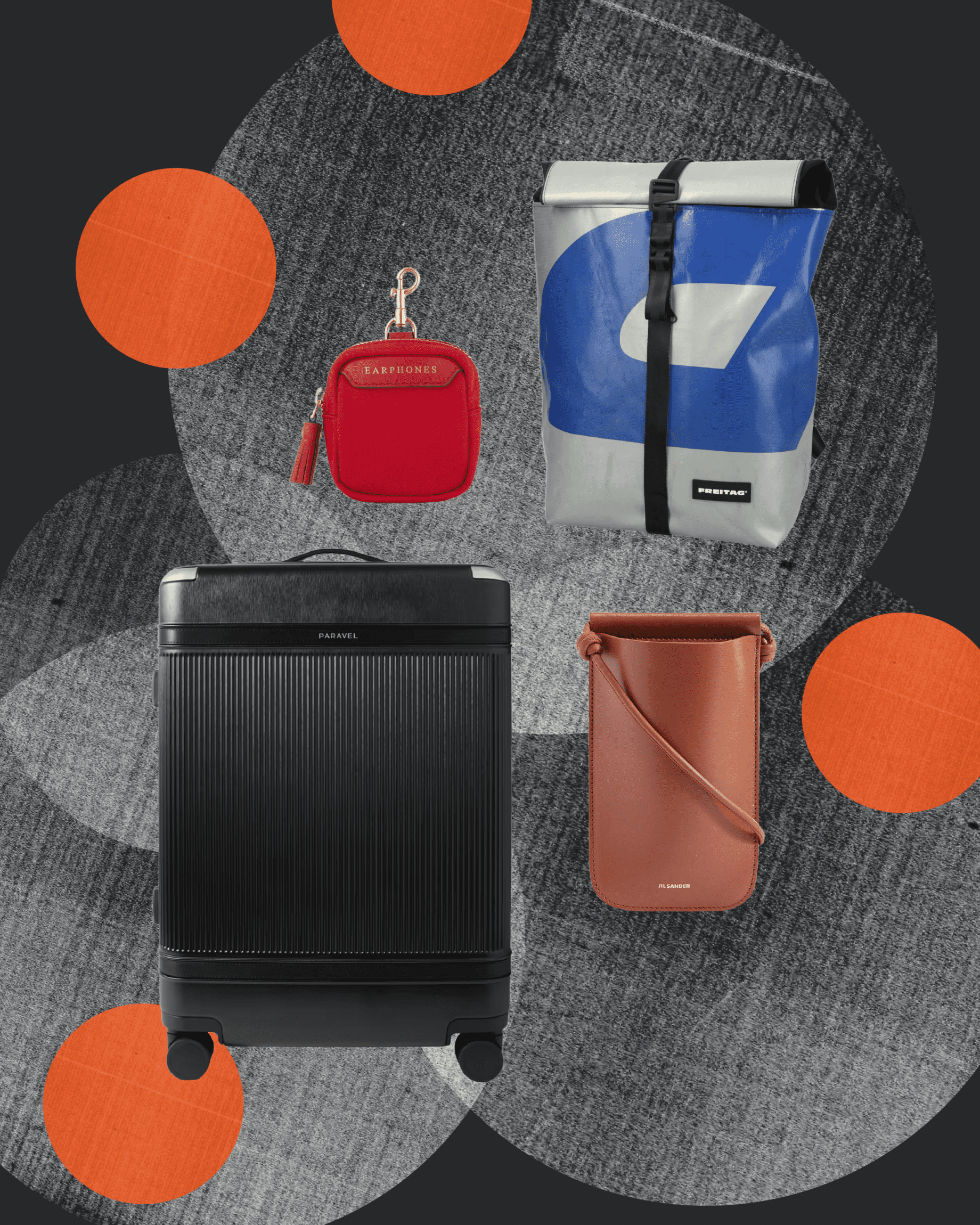 From left: Recycled nylon earphone case by Anya Hindmarch, £95, selfridges.com; F155 FREITAG backpack by FREITAG, £265, freitag.ch; Giro logo-embossed crossbody leather phone case by Jil Sander, £370, selfridges.com; Aviator suitcase by Paravel, £425, net-a-porter.com.
For a longer trip away, you can't beat a hardy, sizeable suitcase, and this black recycled polycarbonate and leather rolling suitcase from Paravel keeps things practical and smart – and the choice of recycled plastic for its casing and lining minimises its environmental impact too. If you're looking for an everyday rucksack to get you about town, we suggest the FREITAG backpack, made in a roll top design so the bag responds flexibly to how much you fill it. It's water repellant, has reflecting panels for visibility on the roads at night, and is built to withstand serious daily use – with 75% of its total materials being recycled. Not bad at all.
Now for specifics. If you want a luxurious phone holder to sling across your outfit for that lux finishing touch, then look no further than Jil Sander's supple leather crossbody phone case, embossed with the iconic logo. Similarly, if you can't stand the sight of your generic AirPods case knocking about in your bag, pimp things up a bit with this Anya Hindmarch earphone case – a mini zip up bag with a fetching tassel pull, all made from red recycled nylon.


JOIN US FOR THE JOURNEY
Subscribe to the newsletter
City guides, culture, photography and ideas, with expert analysis on the biggest stories in travel