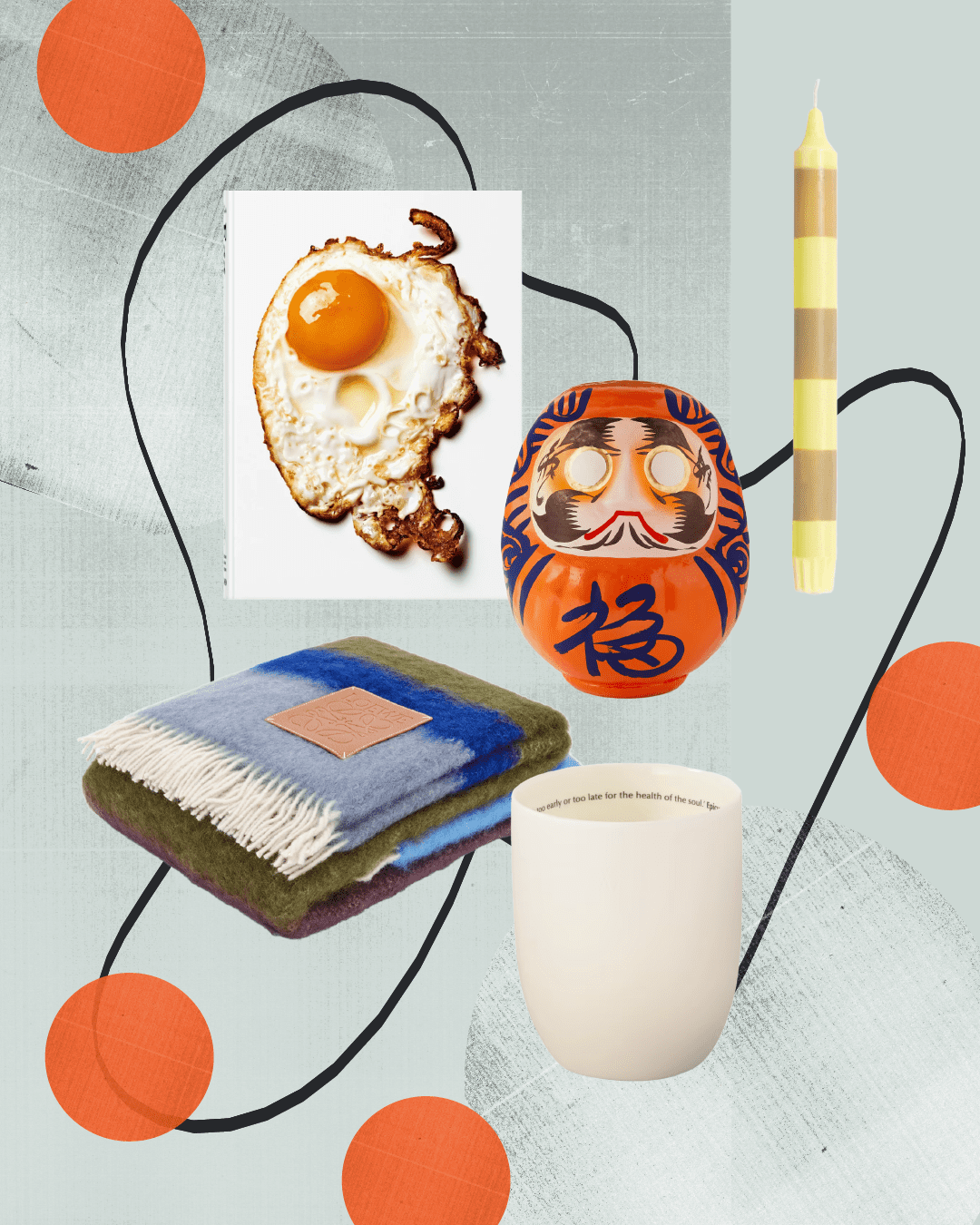 Wholesome homeware for the holiday season
Last updated: May 10, 2023
From candles and coffee table books to tempting tableware, we bring you the best homeware gifts for Christmas 2022
In the second instalment of ROADBOOK's Christmas gift guide is here, we look at the loveliest homewares and coffee table tomes to gift your special humans. This includes handmade ceramics, glass tumblers and vases, lucky charms, sculptural lamps, scented and tapered candles, and a maximalist cushion. As for books, we have something for the art and design lovers from Gestalten, a culinary voyage from The Gourmand, and an exploration of LGBTQ+ spaces across the globe. As per our mantra, we encourage buying less and buying better, and keeping your purchasing choices considered, to keep your overall impact low.
From left: Luckey Charm Glazed Ceramic Doll by BY JAPAN, £75, mrporter.com; Marble-effect earthenware serving platter by Henry Holland Studio, £95, matchesfashion.com; Vuelta rippled glass and brass table lamp by Ferm Living, £185, selfridges.com; Collier tumbler set of four, £63, sohohome.com
Henry Holland left behind his fashion brand House of Holland in 2020 and has since started a hugely popular London-based ceramic business, Henry Holland Studio. Holland's pieces are immediately identifiable by the marbled, ribbon effect that mixes different coloured clays, which are all built by hand, finished and glazed in his Hackney-based studio. Here, we recommend a plate of his in a fetching blue and white clay combination, sure to liven up any dinner party. Sticking with the tableware theme, Soho Home's Collier tumbler glasses, with amber-tinted tops, bring a welcome vintage feel to any table. If you're feeling the sting of Soho House's recent membership price increase, why not bring the house home instead?
Elsewhere, Danish interior maestros Ferm Living can always be counted on for a distinctly modern yet warming touch with its quilts, blankets, cushions and furniture. This minimalist, sleek table lamp doubles up as a small sculpture. Made from fluted glass, the curved form is reminiscent of an ancient column bent into an arch.
Finally, if your loved one's interior could do with a colourful pop of Asian charm, this lucky glazed ceramic doll from Mr Porter's edit of Japanese wares is just the thing. The ceramic is crafted in the form of a Daruma doll, a traditional gift of encouragement, and is made in Japan by local craftspeople using heritage techniques.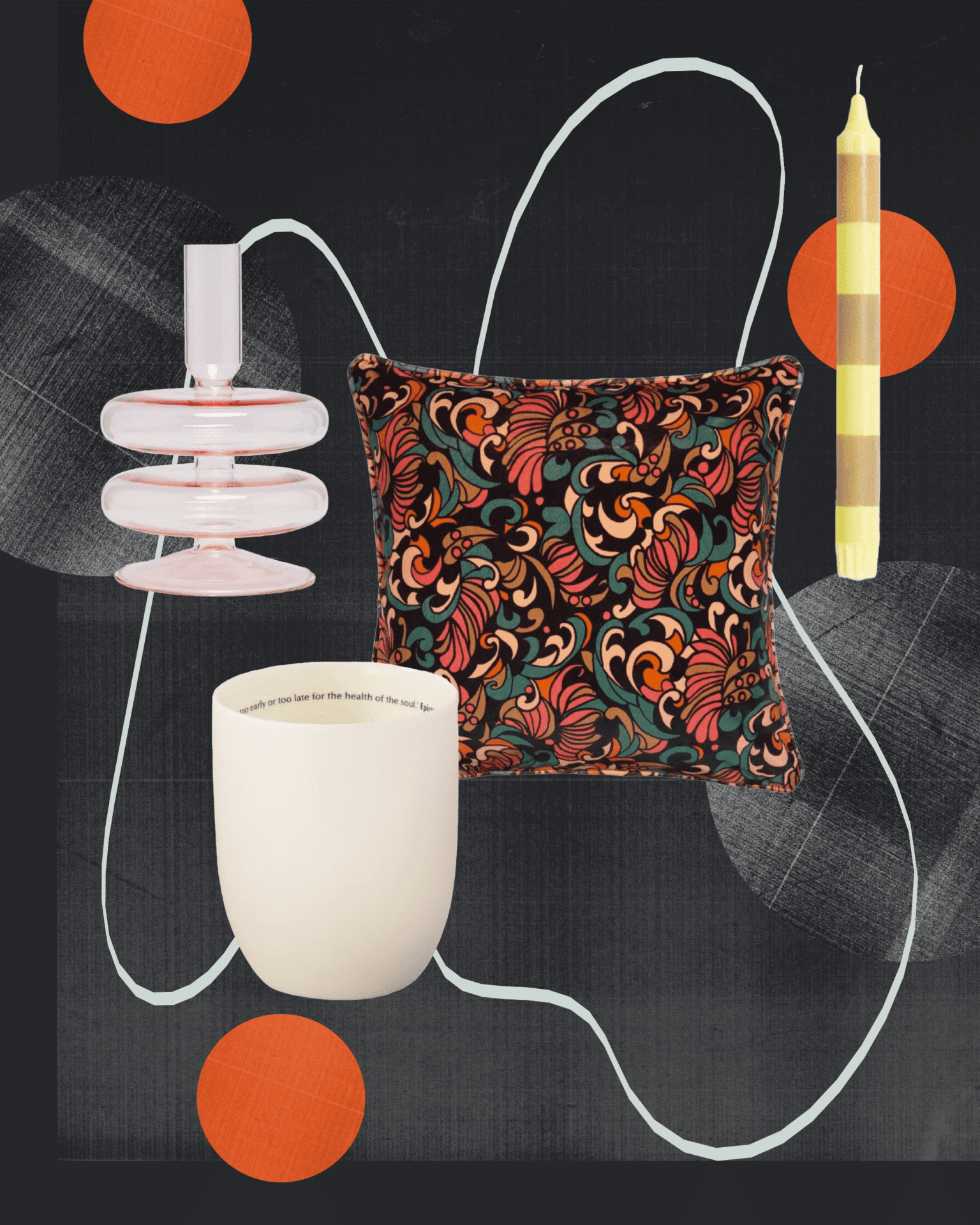 Donut vase by Filtrum, £20, koibird.com; 300g Ptolemy Scented Candle by Aēsop, £80, mrporter.com; Large Zennor cotton-velvet cushion by House of Hackney, £175, houseofhackney.com; Stripe candlestick by HAY, £4, article-london.com
Nothing says winter like cuddling up indoors and lighting a scented candle to set the mood, and few do it better than Aēsop. The brand's Ptolemy Aromatique candle is named for the Ancient Greek-Egyptian astronomer, and its resinous, earthy scents of cedar, cypress and vetiver call to mind an old-growth Japanese forest. The interior warmth continues with a cushion from the proud purveyors of pattern, House of Hackney. The Zennor cushion takes its inspiration from the Cornish mermaid of the same name, exploring the depths of the sea with its swirling, wavy design. Each cushion sold allows the house to purchase and protect 35 sq m of forest, in partnership with the World Land Trust, which means you know your purchase is going to good use.
Stick with the retro theme with this hand blown glass donut vase by Filtrum, available at Marylebone-based concept store Koibird, who curate each season around a central theme to bring adventure to the shopping experience. This vase is equally suited to a single flower stem as it is a single candlestick, so you can play around with it in your home. Speaking of candlesticks, why not go for this stripy number from cheerful Danish interiors brand HAY.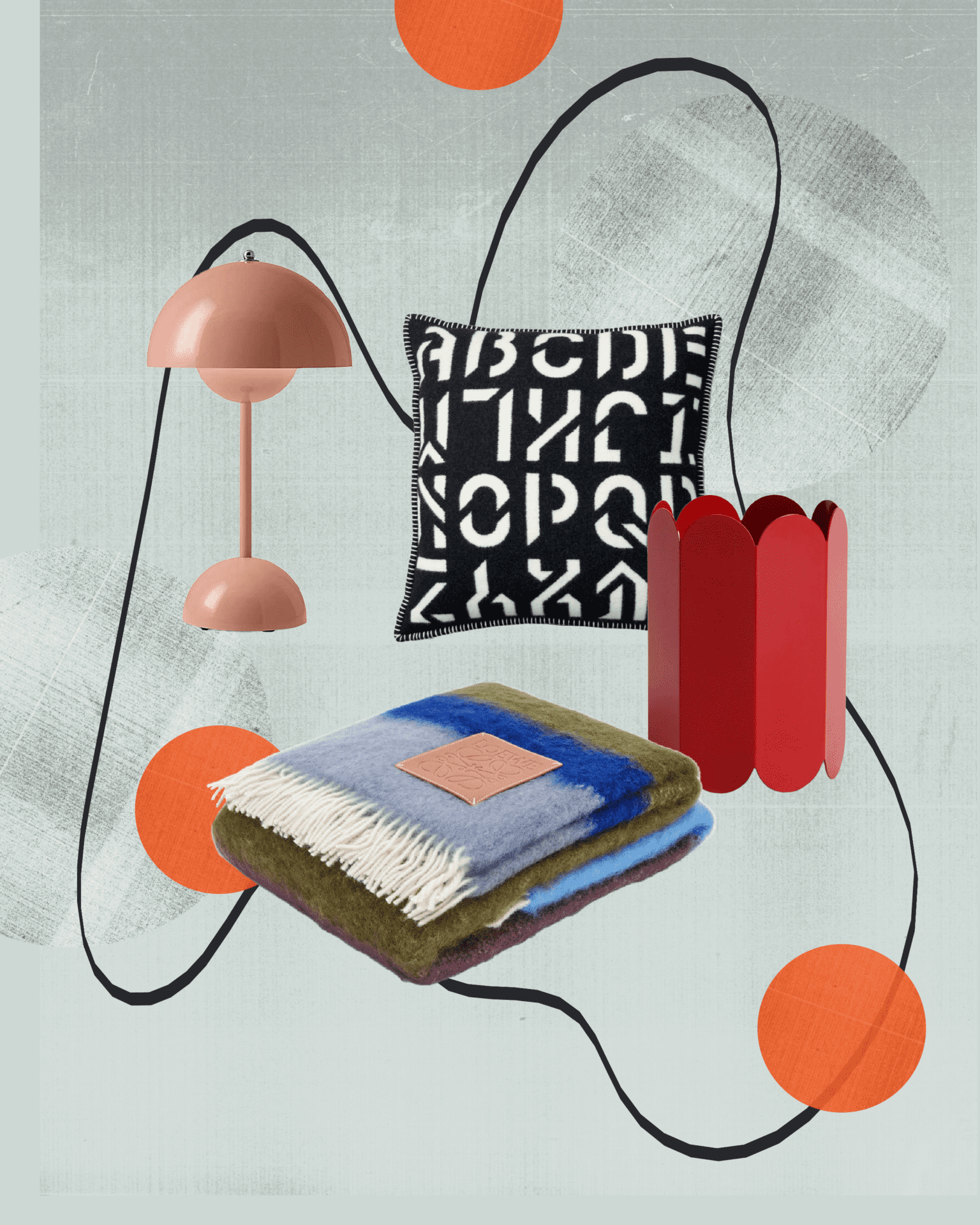 Flowerpot VP9 portable table lamp by &Tradition, £160, selfridges.com; Alphabeta cushion by Byredo, £225, byredo.com; Arcs scalloped vase by Muller Van Severen for HAY, £182, farfetch.com; Fringed mohair blend blanket by Loewe, £895, mrporter.com
Keep things cosy this winter with this mohair blend knitted blanket by Loewe, dyed in earthy, natural tones and finished with the brand's signature anagram leather patch. For something comfy to lean on, Byredo's Alphabeta cushion has a soft, thick weave with a blanket stitch, and to illuminate the scene, go for &Tradition's portable Flowerpot lamp – a classic from revered Danish mid-century designer Verner Panton. If your loved ones need a touch more playfulness in their interior, HAY have partnered with Ghent-based design duo Muller Van Severen with this Arcs vase, designed in stainless steel in a bold red finish, rounded off with scalloped edges for a touch of mid-century glamour.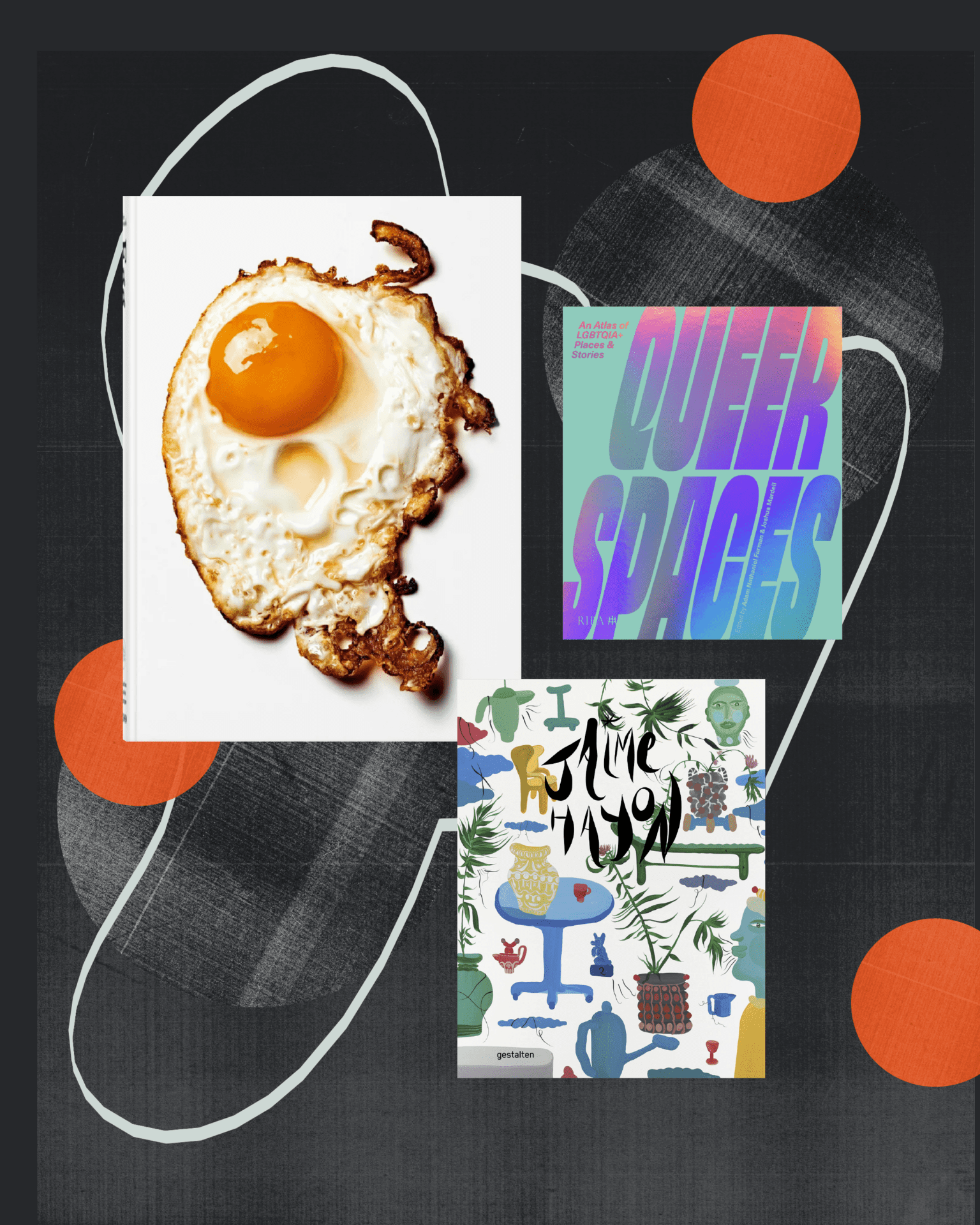 Jaime Hayon monograph by Gestalten, £45, gestalten.com; The Gourmand's Egg by The Gourmand, £40, thegourmand.co.uk; Queer Spaces: An Atlas of LGBTQ+ Places and Stories by Adam Nathaniel Furman and Joshua Mardell, published by RIBA, £40, ribabooks.com
Spanish designer and artist Jaime Hayon's joyful output is explored in a second monograph by Berlin publishing house Gestalten. Hayon's ceramic creatures, crafted objects, and the warm pastel hues of his Mediterranean home are all explored, uncovering the creative's relationship with materials and colour, as well as his techniques and inspirations.
Another for the epicureans, biannual food and culture publication The Gourmand are launching a new book series published by Cologne-based luxury bookmakers Taschen, and for their first instalment, they take a playful yet deep look at the humble egg throughout history. The Gourmand's Egg combines original stories and recipes with commissioned photography and historic artworks, weaving a history of the egg through art, from Dalí to Hitchcock.
For an equally encyclopaedic approach, artist and designer Adam Nathaniel Furman and architectural historian Joshua Mardell have edited a collection of essays and photos from more than 50 contributing filmmakers, artists, city planners, activists and writers, who each explore a queer space that means something to them. Together, the collection creates an atlas of significant queer spaces around the world, including an independent bookshop in Glasgow, an ice cream parlour in Havana, and a crumbling abbey in the countryside of England. This creative book not only celebrates LGBTQIA+ life as something worthy of its own place in history, it also suggests what future form these spaces may take to continue uplifting queer communities.


JOIN US FOR THE JOURNEY
Subscribe to the newsletter
City guides, culture, photography and ideas, with expert analysis on the biggest stories in travel