A weekend in Palm Springs, CA: where to eat, drink and stay
Last updated: January 4, 2023
Stuffed with architectural gems, Palm Springs is also home to a slew of stylish hotels, restaurants, and museums celebrating its rich design heritage. Here's what to do when visiting the Californian playground
This desert playground just under two hours from Los Angeles has long been thought of as a reprieve from the hustle of the city. Since the 1930s, it's been a resort town for the Hollywood elite – and a place for secrecy, when a salacious story could ruin your career. Located 107 miles away from LA, Palm Springs was just outside the reach of early gossip columnists, whose bosses would only reimburse for travel up to 100 miles. The result is a luxurious town built rapidly in the mid-century modern style, and still famous for its architecture as well as the hot springs that make the spas world-class. Here are the best things to do in Palm Springs, taking in modernist buildings, gorgeous hotels and standout restaurants in stunning surrounds.
The best hotels in Palm Springs
L'Horizon Hotel and Spa
Best for: A luxurious getaway steeped in Hollywood history
Location: 1050 East Palm Canyon Drive, Palm Springs, CA 92264
Price: 600 USD-1,700 USD per night, depending on the season and room choice
Originally built in 1952 as a private getaway for television producer-oil tycoon Jack Wrather and his wife, actress Bonita Granville, L'Horizon has always prized relaxation and privacy. The 20 guest houses surround a luxurious pool, and Wrather invited friends like Marilyn Monroe, Presidents Reagan and Nixon, and other star-studded names to relax in his not-so-humble abode. Today, L'Horizon is known for the in-hotel spa, which includes full-body scrubs, sumptuous facials, yoga sessions, and personal trainers. The hotel is seen as one of architect William F. Cody's most iconic works, and a significant example of mid-century modern architecture on the West Coast. So yeah, it looks pretty darn nice.
Ace Hotel & Swim Club
Best for: pool parties and hipster interiors
Location: 701 E Palm Canyon Drive, Palm Springs, CA 92264
Price: from 210 USD per night
The Ace Hotel Palm Springs is a hipster haven, with vintage-infused interiors by Los Angeles based design firm Commune. There is always a party happening by the David Hockney painting-esq pool, while the bars, restaurants and shops of Downtown Palm Springs are also right on your doorstep. 
Saguaro Palm Springs Hotel
Best for: Extroverts looking for a colourful time in the desert
Location: 1800 East Palm Canyon Drive, Palm Springs, CA 92264
Price: 90 USD-200 USD per night, depending on the season and room choice
This boutique downtown hotel is known for its technicolour architecture and buzzing pool scene. Several 'Happenings' each week, like Taco Tuesday and Disko Cowboy DJ sets, ensure there's always something to do at The Saguaro. The 24-hour fitness centre offers yoga on the weekends, and the spa, open 365 days a year, has an extensive menu of massages, facials, and other treatments. Guests have access to desert cruiser bikes to get around the city, which is a fun and beautiful way to see the town. But don't be surprised if you spend your whole stay by the pool – between the cabanas, poolside bar, and cool party atmosphere, why leave?
The best restaurants in Palm Springs
Cheeky's
Best for: Brunch the day after partying in the sun
Location: 622 North Palm Canyon Drive, Palm Springs, CA 92262
Price: Bloody Mary, 13 USD; bacon flight, 8 USD
Considered one of the best restaurants in Palm Springs, this breakfast and lunch spot has a cult-like following, but how could it not when they pioneered the bacon flight? Yes, that's a tasting flight of different kinds of bacon, and no, it doesn't mean pigs can fly. Cheeky's comfort-food style offerings are full of fresh local ingredients, and all are made in house. Chilaquiles and Argentinian hash suggest a South American influence, but the menu has something for everyone and changes often, allowing the chefs to be creative with what they're offering. Most days there's a line to get in, but the cinnamon rolls are worth the wait if you can get in before they sell out. If not, don't worry: breakfast is served all day.
cheekysps.com
Boozehounds
Best for: Dog and architecture lovers
Location: 2080 North Palm Canyon Drive, Palm Springs, CA 92262
Price: Main courses range from 14 USD-32 USD
This enormous restaurant is unique in that the owners prioritised their dogs in the design. Outside is a dog-friendly, open-air atrium replete with a bar and patio where dogs can run around and humans can lounge. Inside, the space is lush with greenery, velvet banquettes, and neon signs, giving it a mid-century modern meets tropical feel. The Japanese-influenced menu features stand-out items like a sesame miso tofu, yellowtail crudo, ube toast, and miso Chilean fish. True to the name, there's also a small but mighty selection of sake and Japanese beers alongside American-style cocktails. And yes, of course, there's a dinner menu for every pup too.
boozehoundsps.com
Bootlegger Tiki
Best for: Cooling down after a day in the sun
Location: 1101 North Palm Canyon Drive, Palm Springs, CA 92262
Price: Drinks from 14 USD
This tiny tiki bar tucked behind Ernest Coffee serves fruity drinks that will quench any dry throat after a day in the Palm Spring heat. The torch-lined patio is perfect for wiling away evenings after the sun has set, and the indoor seating offers a chance to enjoy quirky decor with a Polynesian theme. The rotating menu ensures you'll be trying cocktails you haven't seen elsewhere. Their original "Gilligan Ate the Skipper" will knock you flat while still tasting delicious and refreshing. Take friends and order a punch bowl, or roll the dice with a bartender's choice. 
bootleggertiki.com
What to do in Palm Springs
Palm Springs Art Museum
Best for: Modern art lovers
Location: 101 Museum Drive, Palm Springs, CA 92262
Price: 14 USD per person
The bold horizontal lines of Palm Springs Art Museum, a modernist building designed by architect E. Stewart Williams, seems to emerge naturally from the desert hills behind it. The museum's collection focuses on modern and contemporary artwork and is home to thousands of sculptures, paintings, photographs, and more. Plan your trip carefully as they're closed Monday to Wednesday. But when you do make it, ensure time to have a glass of wine at the Persimmon Bistro & Wine Bar, which faces a beautiful sculpture garden. Although located on different sites, the museum also owns the Albert Frey House II and the Faye Sarkowsky Sculpture Garden, which are both worth a look.
psmuseum.org
Modernism Week
Best for: Design aesthetes
Location: Palm Springs, CA
Price: Variable
No plan for visiting Palm Springs would be complete without a look at the architecture that makes the city famous, and there are many ways to experience it. Self-guided tours are easy to find anywhere, but a trip during Modernism Week, held annually in February, is the dream for any lover of mid-century modern design. This celebration involves more than 350 events, including parties, films, lectures, and–perhaps most drool-worthy–private home tours. Marvel at historic homes that are usually closed to the public, before going to the Modernism Show & Sale to shop for yourself.
modernismweek.com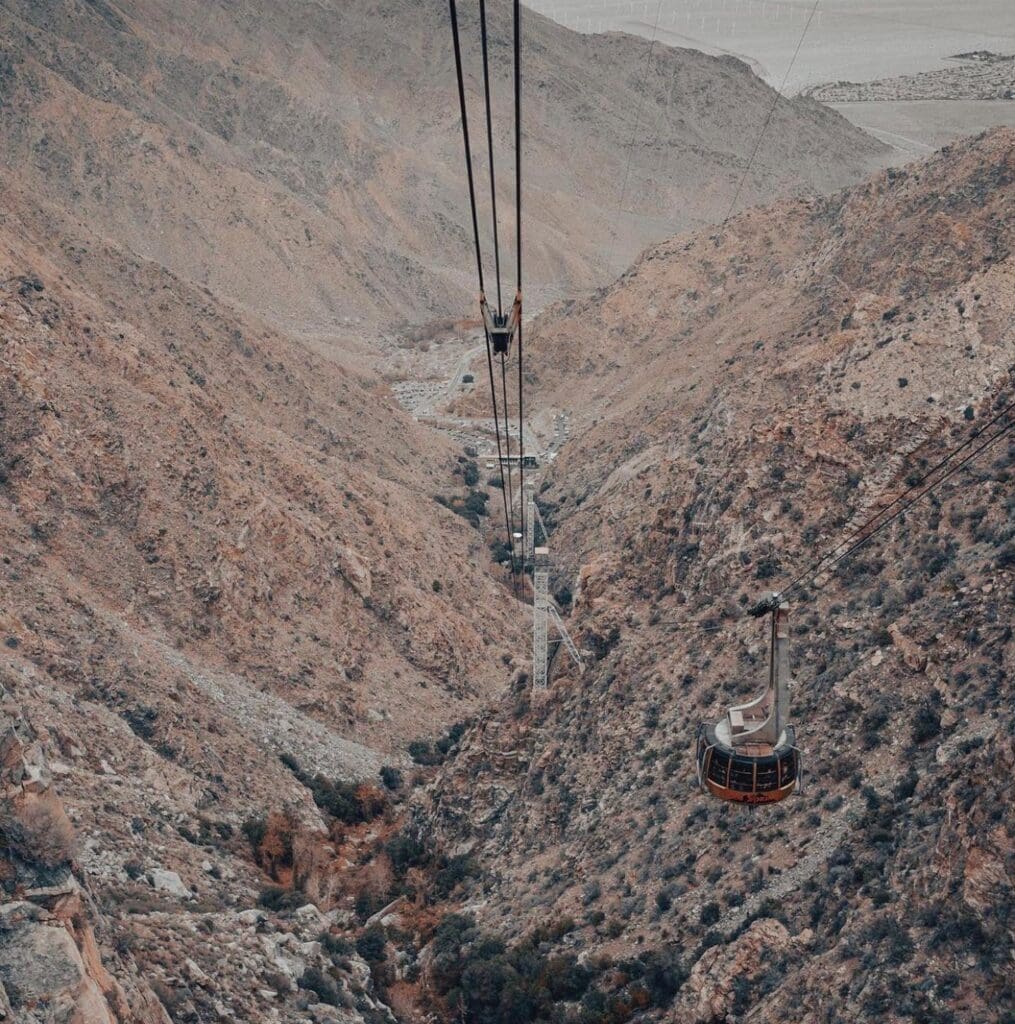 The Palm Springs Aerial Tramway
Best For: Wilderness lovers
Location: 1 Tram Way Palm Springs, CA 92262
Price: 28.95 USD
Dreamed up by electrical engineer Francis Crocker while working in Palm Springs in the 1930s, it took nearly 30 years to make this tramway a reality. The tram scales a nearly sheer cliff in Chino Canyon to deposit passengers in Mount San Jacinto State Park. The ten-minute ride climbs an elevation of just under 2600 metres, and all the while the tram cars rotate slowly, so everyone inside can see the full panorama of the picturesque valley below. Once on the mountain, the hiking available is a sweet relief from the heat of the valley. It seems counterintuitive, but bring a jacket – the altitude makes a surprising difference.
pstramway.com
Cabot's Pueblo Museum
Best for: Lifelong learners curious about the region's history
Location: 67616 East Desert View Avenue, Desert Hot Springs, CA 92240
Price: 13 USD
Perched just north of Palm Springs, the Pueblo Museum has a unique history: it's built in the traditional style of the Native American Hopi tribe from the nearby Hopi Nation in eastern Arizona, and was hand-built by architect Cabot Yerxa during the last two decades of his life. He formed the adobe-style sun-dried bricks himself in the courtyard and filled the building with Indigenous art, displays of Native American Rights, and historical artefacts. It's uniquely beautiful, and a stunning shift from the mid-century architecture that typifies the rest of Palm Springs. The museum is also home to Waokiye, a six-metre-tall sculpture carved from a single log of Sequoia by artist Peter "Wolf" Toth, as part of his series of monumental sculptures called Trail of the Whispering Giants, which can be found in situ throughout the US and Canada.
cabotsmuseum.org


JOIN US FOR THE JOURNEY
Subscribe to the newsletter
City guides, culture, photography and ideas, with expert analysis on the biggest stories in travel